Travel Insurance for UK Cruises
A seacation offers the perfect escape for cruise lovers, with sailings around the UK providing the first class service, entertainment and food and drink that you would expect from a European or Carribean cruise, right here on British waters. Enjoy the breathaking scenery of the British Isles from the comfort of your Cruise ship or visit the historic cities of Liverpool, Belfast, Glasgow on a resort-style Seacation this summer.
Travel Insurance has become an essential requirement for Seacations, with many cruise lines asking for proof of cover before boarding, and specifically for £2m medical and repatriation cover. Many standard UK travel Insurance policies will not include that amount of medical cover, but at Just Travel Cover we have a dedicated Seacation Travel Insurance policy to provide the cover you need for complete peace of mind – there are additional cruise benefits too, including Cabin Confinement, for example if the medical officer confines you to your cabin if you fall ill on board.
Remember, if you need emergency medical treatment on board a cruise ship on UK waters your treatment is not covered by the NHS, so your Travel Insurance would pick up the bill. Plus, in the event of serious illness there may be a requirement for medical evacuation and ultimately, the cost of getting you home – all of which would be covered by your Seacation Travel Insurance.
Finally, don't forget that Seacation Travel Insurance will also provide cancellation cover, should something go wrong before your trip*, as well as baggage cover and a host of other benefits.
If you need a policy with £2m medical cover for a UK Cruise…
If your cruise line does not require you to have £2m medical and repatriation cover, please use the link below to see prices from a range of providers who will cover your UK Cruise but that do NOT offer £2m medical cover within UK waters.
Seacation Travel Insurance: What's included?
Enhanced Covid19 cover: if you need to cancel because you test positive for Coronavirus
Emergency medical expenses up to £2m
Cover if you fall ill on board (including with Covid-19)
Or if you need emergency medical evacuation and/or repatriation*
Specific cruise benefits including missed port departure, cabin confinement and cruise interruption cover.
If you do not need £2m medical cover (UK Cruises) then please use this link
*Above information based on Avion and & Sea policy. cancellation terms apply – for full terms and beenfits you can read the Policy Wording here. To get a quote select Cruise and UK / United Kingdom online, or call us free.
Seacation Travel Insurance FAQs
What is a Seacation?
A Seacation is a cruise, or a holiday at sea, but on UK waters. Your chance to explore the breathtaking British Isles from the comfort of a cruise ship, with all the food, drink and entertainment you'd expect.
Do I need to be vaccinated to go on a Seacation?
Vaccine status and requirements wil be down to the cruise line and their individual policy, which may vary. You should always check this when booking via your Travel Agent or Tour Operator. Vaccine status is not a requirement of Travel Insurance.
Do I need Travel Insurance for a Seacation?
Yes you should have specific Seacation Travel Insurance, with many companies now demanding £2m medical cover in case of emergenc medical treatment on board or medical evacuation. This is more pevalent as we navigate out of the pandemic.
Can I go ashore on a Seacation?
This will depend on the type of Seacation you book, but both options are available; simply sightseeing from the comfort of your ship, or exploring some of the UK's most historic cities.
Our Latest News
Read the latest news from Just Travel Cover.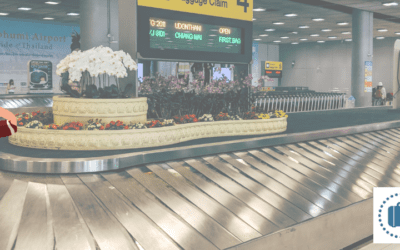 Smart Luggage, the award-winning, real-time insurance policy for lost luggage is now available to buy from just £3, even if you already have your...
read more