by Sarah Forster
-
23 May 2023
In all the excitement of going on holiday, there is always something people forget! 
We've pulled together own Summer Holiday Checklist, to make sure that you have everything you need to get your well-earned holiday off to a blissful start…

Travel Insurance – make sure you check out our Travel Insurance Checklist
Passport
Boarding Passes
Hotel Info
Travel Money/Credit Card/Cash
Any VISA/ESTA docs
GHIC Card
Digital Copies of Documents
Essential Phone Numbers – BH/NOK/Hotel/Claims
Medical Prescriptions
Maps – or download offline map
Itinerary

Phone Charger
Plug Adapters
Power bank
Headphones
Camera
Laptop or Tablet + Chargers
Kindle
Bluetooth Speaker

Swimwear
Underwear
Trousers/Shorts/Skirts
Belt
T-shirts/Shirts/Blouses
Light Jacket
Pyjamas
Beach Dresses/Wear
Evening Attire
Gym/Workout gear

Sunglasses
Beach Bag
Reading Glasses
Hat
Sandals/Flip Flops
Evening Shoes
Comfortable Shoes
Beach Towel
Waterproof Dry Bag/Waterproof Cases
Day backpack

Suncream
After sun
Tooth Paste and Brush (and charger if electrical)
Shampoo/Conditioner and any other hair care products
Shower gel
Deodorant
Perfume/Aftershave
Moisturiser
Feminine Hygiene
Mosquito Repellent
Travel Wash
Face wipes/Make Up Remover
Make Up
Hairbrush

Personal Medication
Plasters
Pain and fever remedies
Mosquito Repellent
After-Sun or Aloe Vera
Antihistamine
Bite cream
Imodium
Hand Sanitiser
Face Mask

Refillable Water Bottle
Sleep Mask/Neck Pillow
Books or Magazines
Wash Bag
Travel Wallet
Guide Books
Travel Insurance for your summer getaway…
At Just Travel Cover we don't believe your age should stop you pursuing your travel dreams or soaking up the sunshine. With cover for hundreds of pre-existing medical conditions and no age limit we can help find the right cover for you from our panel of insurers. Find out more on our no-upper age limit here.
Not only does Travel Insurance protect you against unexpected medical bills, but cancellation for unforeseen events and lost and stolen luggage. At Just Travel Cover our Smart Luggage policy is included in all our gold policies and available to add on our silver and bronze or purchase seperately from just £3. 
Smart Luggage isn't your typical air tag or battery charging case, instead it pays out when you need it the most. If your luggage is deemed lost or stolen after 48 hours you will recieve a total of £550 paid straight into your bank or PayPal account to be able to purchase essential items. Find out more here. Terms apply.
How can I pack less for holiday?
Select your outfits before you go and take essential items that you can wear with different things. The 5 4 3 2 1 packing method is a good starting point, allowing you to create different outfits with minium clothing. 
What is the 5 4 3 2 1 packing method?
The 5 4 3 2 1 packing method is simply:
5 sets of socks and underwear
4 tops
3 bottoms
2 shoes
1 hat
If you are travelling for more than five days, don't forget to add some Travel Wash!
Is 10kg enough for holiday?
This is unique to both the individual and holiday type. If you're going on a golfing or skiing holiday and taking your own equipment then 10kg may not suffice. However, if you're looking to enjoy a summer getaway or city break then 10kg can be more than enough if you travel lightly. 
You can even save weight/space by buying your toiletries in the airport with some chains offering click and collect like boots for example. 
How do I pack a carry on for 8 days?
Only take essential items and follow the 5 4 3 2 1 packing method. Make sure you can combine outfit choices which will also save room and weight. 
What should I pack before holiday?
Follow our handy summer checklist to keep you right.
Travel Insurance 
Here at Just Travel Cover we provide cover for hundreds of pre-existing medical conditions with no age limit, helping you protect you and your holiday from the unexpected.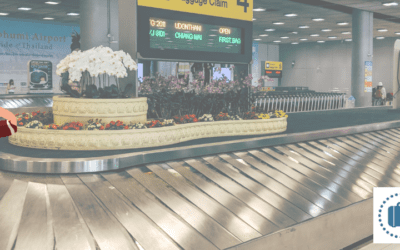 Smart Luggage, the award-winning, real-time insurance policy for lost luggage is now available to buy from just £3, even if you already have your...
read more