by Sarah Forster
-
23 May 2023
The sun has finally decided to put his hat on here in the UK and about time too! With summer just around the corner lets dive in to all things Travel Insurance.
We know that Travel Insurance can be complex especially for those who have pre-existing medical conditions, so we have pulled together our go-to Travel Insurance Checklist to ensure you get the best cover for you.
We know terms and conditions can be long but when it comes to Travel Insurance, it really is important to read them and make sure you are covered. We are all tempted by a bargain, but this is one area we advise that paying that bit extra for a quality policy pays off if something was to happen.
So, what information do you need to book effective Travel Insurance?
Let's start by taking a look at the questions you will be asked online or over the phone to help us determine your needs. These questions are essential for us in finding the best Travel Insurance that will cover you for everything you need if something was to happen whilst abroad.
1. Do you require a single or annual policy? Will you be going on a cruise?
A single policy comes into effect from the date of purchase so that you are covered immediately for cancellation for a single trip. An annual policy can start from the date of purchase or 30 days in advance online and 90 days over the phone. This then lasts a full 12 months from the start date and cover you for multiple trips. Your cancellation cover is only activated from the start date of your policy. For example, if you rang up today and chose to start your policy in 30 days time you would not be covered for any cancellation between now and the date of your policy starting in 30days. If you're going on a cruise for the full or part of your holiday you will need additional cruise cover.
2. What date are you travelling?
We recommend booking Travel Insurance as soon as you've booked your holiday. This is so you are covered should you need to cancel your holiday for an insured reason.
3. Which country or countries will you be visiting?
You will find that the cost of Travel Insurance can differ by which country or countries you are visiting. This is due to the cost of medical care being significantly higher. For example we know medical care in the USA is exceptional high and bills can run into thousands of pounds quickly. Due to this you are more likely to see a higher premium compared to a destination like Spain.  
4. Who is to be named on the policy?
Are you travelling alone, as a couple, family, or group?
5. Details of all people required on the policy (name, DOB, address and medical history).
If you are booking as a group, please note we will need to speak to each individual if the group is not family. This can be done by setting up a 'lead' and then the remaining group added onto the policy. Each individual will also need to complete a couple of security questions based on the lead before we can access the quote.
6. What activities will you be doing? And what potential activities may you do?
For example, will you be doing winter sports? Golf, hiking or hot air ballooning? We cover 60 sports and activities as standard with our Pack A activities option and we also have a Pack B available.
7. List of medical conditions, and any investigative treatments you may be having.
This is really important as any pre-existing conditions need to be declared before you travel to ensure you have appropriate cover. This will include but not limited to; ever having a heart or circulatory condition, diabetes, stroke, high blood pressure, cancer, lung and breathing conditions or organ transplant and dialysis.  To ensure we find the best cover for you from our panel of insurers we will also ask some questions about each individual policy holder and any other medical conditions, consultations or hospital admissions (incl. day patient) in the last five years.
What is standard cover?
You may hear the term 'as standard' or 'standard cover' this means that any policy you take out covers you for the following:
Medical Cover of at least £5m
Emergency Medical and associated expenses such as accommodation and repatriation.
Cancellation and Curtailment – Cancellation covers you until you leave your home to commence your trip with curtailment covering you (to cut your holiday short) once your trip has commenced. 
Lost, stolen or damaged baggage including temporary replacement of lost travel documents
Disruptions and delays
Legal/personal liability cover (for example if you face any legal costs due to an incident whilst on holiday)
Missed Departure
Hazardous Activities Pack A
It is worth noting that although these are covered as standard, each Insurance provider will have varying limits for each as well as excess amounts depending on the options chosen (Gold, Silver or Bronze). Make sure before you take out any policy that you are covered for the value that you require. For example, if you've paid £6,000 for the holiday of a lifetime, you don't want a policy that only covers you for £5,000 cancellation. It is also worth noting that this is per person, if you paid £3,000 per person for your trip for two, you can only claim for those named on your policy and for a maximum £3,000 per person named.
Activities
We've all been there on holiday and decide to take part in an activity that turns your perfect holiday into an unforgettable one. However, if something was to happen to you during the activity you may not be covered by your Travel Insurance policy.
Activities fall under 4 categories, A, B, C and D, with each one offering different activities from swimming to sky diving. With anything there is always a risk associated so those activities which are deemed as more 'high risk' will carry an additional premium.
Here at Just Travel Cover Pack A comes as standard on all our options with a total of 60 activities including golf, swimming, hiking (under 2000m) and cycling to name but a few. We also offer an additional option Pack B. Pack B covers you for all activities in Pack A as well as pursuits like deep sea fishing, hot air ballooning, quad biking and camel/elephant rides. This option can be added online or other the phone. If you're activities fall outside of those listed, please contact a member of our team who will be more than happy to see what other options are available.
Don't forget to make sure with the option you have chosen that you are covered for all your planned (and unplanned) activities.
Additional Cover
In addition we offer Smart Luggage. If your checked luggage does not arrive and can't be located, report it, get a PIR number and claim via your smartphone – if it's not found after 30 mins you will receive £50 straight into your bank. After 48 hours if you're not reunited with your luggage, you will receive a further £500 payment.
Don't be caught out!
When you receive your documentation make sure you read the policy documents and ensure that you are covered for your personal and holiday requirements. If anything is incorrect, let us know as soon as possible so this can be corrected. Familiarise yourself with your Insurer's claim procedure and save the claims number. At Just Travel Cover our staff have an extensive knowledge of Travel Insurance available from our panel of insurers and are more than happy to talk through any concerns you may have. The easiest and quickest way to get an answer is through our online chat.
Now you are a Travel Insurance whizz and know everything there is to know or if you still need some additional help, we've got you – get a quote online today or chat to us on our online chat!
Travel Insurance for your next trip!
No matter where your next holiday takes you, Just Travel Cover have you covered. With no age limit on our policies which cover hundreds of pre-existing medical conditions including heart conditions, diabetes and cancer we can have you protected in just a few simple steps.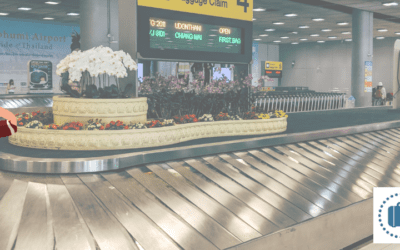 Smart Luggage, the award-winning, real-time insurance policy for lost luggage is now available to buy from just £3, even if you already have your...
read more