by Sam Leaver
-
4 June 2018
National Gardening Week is the perfect time to share your love of gardening and you can join in the conversation online.
There are some wonderful events taking place across the UK and some great tips and advice too on the National Gardening Week website.
To celebrate the week we've explored some of the world's most impressive gardens along with four fascinating facts about each of them; how many of these have you seen?
Take a look at our Facebook page all week to see some great pictures of these gardens and enter our competition to win a £50 voucher for B&Q!
​Gardens of Versailles, France
Did you know that our first garden was home of French kings from Louis XIV to Louis XVI?
UNESCO world heritage site since 1979.

Took forty years to construct.

One of the biggest gardens in the world covering 800 hectares.

The large orangery covers 7.5 acres and has thousands of trees which protect the plants in the winter.

300 hectares of forest, 35km of canals, 600 fountains and 372 statues, 200,000 tress and 210,000 flowers​
Keukenhof, Lisse, Netherlands
Often described as the tulip capital of the world:
Home to the world's largest flower garden covering an area of 32 hectares with more than 7 million flowers.

Only open for two months of the year, from late March until late May.

The garden also hosts the world's largest lily show

The 45 minute boat ride brings a magical view of garden from another perspective.
Royal Botanic Gardens, Kew, London
There's an impressive 250 years of history at these gardens:
The gardens cover 3.6 hectares.

Princess Augusta originally designed the garden in 1759.

A World Heritage Site.

Home to more than 50,000 species of plant.

You can learn about the science, horticulture and history on a free guided tour.
Butchart Gardens, British Columbia, Canada
Rated by National Geographic as one of the best display gardens in the world:
This garden was designed Robert and Jennie Butchart.

The site was originally a quarry owned by Robert Butchart

Home to thousands of butterflies, parrots, peacocks and other birds.

The star pond in the garden also protects a number of ducks.
Gardens of Chateau de Villandry, Indre-et-Loire, France
Our second of three gardens in France is famous for the beauty of its Renaissance gardens :
Six different gardens all with a centrally based pond.

Sun garden featuring a Sun-shaped pond.

Water garden containing some amazing fountains.

The herb garden is a circular shape and represents eternity.
Giardini Botanici Villa Taranto, Piedmont, Italy
Construction on the gardens took place between 1931-1940 by Scotsman Neil Boyd McEacharn:
This botanical garden protects 20,000 varieties of plant from thousands of different species.
There's a vast variety of many tropical plants, tulips, lotus, dahlias, camellias, magnolias and heathers.
The garden also contains Italian style statues, terraces, waterfalls, fountains and ponds.
The walkways are more than 4 miles in length.
Longwood Gardens, Pennsylvania, USA
This garden is lit by half-million twinkling Christmas lights from November to January:
The huge conservatory in this botanical garden covers a vast area of 4.5 acres.
Home to 5,500 different types of plant.
Animals including deer, beavers, birds and butterflies are protected in the gardens.
The walking trails stretch over 3 miles
Nong Nooch Tropical Botanical Garden, Pattaya City, Thailand
More than a garden, this is a major scientific centre dedicated to cycads, with its own Cycad Gene Bank:
The garden has a symmetrical design.
The gardens are home to the largest collection of flowering plants in Thailand.
Bonsai, ferns, palms, cactuses and orchids are just some of the 670 native species.
It features a cultural show, car museum, fishing pond and elephant show
You can also enjoy cycling, elephant riding and boat paddling in the garden
Claude Monet's Garden, Giverny, France
Our final garden is our third in France and was designed by famous French impressionist painter Claude Monet:
Split into two parts the Clos Normand flower garden and a Japanese inspired water garden.
One of the main attractions are the climbing roses.
Several fruit trees are located in the gardens.
Going on holiday soon?
If you are planning or have booked you summer holiday don't forget to arrange your travel insurance today.
Perhaps you're going to visit one of these gorgeous gardens or maybe you prefer a beach break, our award-winning travel insurance experts can help you find the best policy for your needs.
You can get your free quotation online or alternatively call us for FREE on 0800 294 2969.
Insurance for pre-existing medical conditions
Compare up to 48 prices online in minutes with cover for hundreds pre-existing medical conditions including heart conditions, diabetes and cancer. Prefer to speak to someone?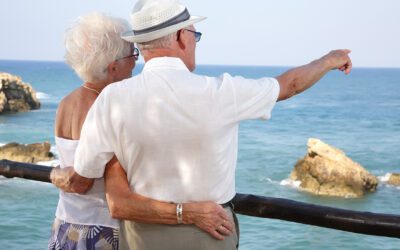 British holidaymakers who have been fully vaccinated could skip amber list quarantine rules under plans being drawn up by the government, according...
read more