by Sarah Forster
-
12 December 2022
Join us as we discover 12 alternative Christmas destinations with countries offering up everything from a crisp white Christmas to a sunkissed glow.
1. Lapland
Midnight sun, Aurora Borealis and blankets of crisp white snow.

Lapland is one of the most magical places on earth to spend Christmas. Set your Christmas spirit alight, with crackling wood fires, snow-dusted forests and a sea of reindeers deep inside the Artic Circle.
2. The Maldives
Experience a white Christmas of a different kind… sandy beaches, clear skies and crystal blue waters.

With average temperatures between 28-30 degrees, you really are in a little piece of Maldivian heaven. Wake up on Christmas morning in an oversea villa surrounded by tranquil Indian Ocean. Break from tradition and indulge in fresh lobster, oysters and grouper with a glass of sparkling wine for Christmas Dinner.
3. Salzburg, Austria
The hills are alive with the Sound of Christmas….

If you're looking for a romance this Christmas, then Salzburg is like stepping out into your very own fairy-tale. This UNESCO World Heritage City dates back to the 15th Century and has a famous heritage – Not only was it the backdrop for the classic film The Sound of Music but also the birth place of Classical composer Mozart. Discover this enchanting city as you stroll through cobbled streets, meandering your way through the market stalls offering up gingerbread hearts, toys and knitwear. With the smell of punch, roasted chestnuts, toasted almonds and fresh baked apples circling the air, get lost in the sounds of traditional wind music as you soak up the atmosphere. 
4. Singapore
Taking the phrase 'Go hard or go home' to a whole new level.

Once you have experienced Christmas in Singapore, it won't be the same again. Explore Singapore's biggest Yuletide event Christmas Wonderland at Gardens by the Bay, you can expect luminaire sculptures, rides, carnival games, market and Santa! Head out for some last-minute presents at Orchard Road Shopping Area, or soak in the atmosphere viewing the magnificent tree and all things Christmas.
Just like at home you can expect a Turkey however, it may have a new festive twist. If you're still in Singapore at New Year, Marina Bay countdown is the place to be.
5. Prague
Christmas a little more like you know it.

Old Town Square is home to its infamous Christmas Market, complete with stables, goats, donkeys and sheep forming the traditional nativity scene. Under twinkling lights, prepare for the magic of Christmas as you wander through the wooden huts, mulled wine in one hand and a tredelnik in the other.
6. Tenerife
Who doesn't love a spot of winter sun?

Strip back the tourism of Tenerife to discover its unspoilt beauty with seaside villages, coves, colonial towns and rainforests. Swap your sofa for a sun lounger and enjoy the suns ray as you sleep off your festive food coma.
7. New York
New York at Christmas is the stuff of movies – literally.

As you can imagine the city that never sleeps, is bursting from the seams with Christmas festivities.  Perform your best chasse on the ice at the Rockefeller centre, Byrant Park, Central Park or Coney Island. Visit the infamous Rockefeller Christmas Tree and the enchanting window displays of Fifth Avenue. Explore Winterfest, Winter Wonderland and Grand Central Station for some last-minute Christmas presents before spending your evening in Dyker Heights, Brooklyn where you will be captivated by their unique Christmas Lights and displays. On Christmas Day, you can catch the New York Nicks at Madison Square Garden, watch the latest blockbuster film or experience a Radio City Christmas Spectacular.
8. Mauritius
Also known as heaven on earth…

Sun worshippers, this one is for you. As UK temperatures plummet and snow starts to fall, Mauritius is experiencing its summer with average highs of 30 degrees. Between late November and early December sees the blossoming of Flame Trees signalling the start of the festive period. Mauritians celebrate Christmas with Christmas trees and gift giving and you can expect to see traditional decorations across the Island.
On Christmas Eve, don't be alarmed as the midnight sky is filled with sparkling colours as fireworks announce Christmas Day. Sample a traditional Mauritian Christmas on the beach with a BBQ, Gala Dinner or Festive brunch.
9. Colmar, France
Experience Noel in "Little Venice"

Wander through the narrow streets of this 13th century village, and discover its meandering waterways and century old half-timber houses. Follow the twinkling lights, as they guide you through the medieval streets connecting the city's 6 Christmas Markets. As you reach each themed Christmas market, prepare to be captivated by their fairy-tale setting as you discover local crafts, traditional toys and so much more.
Make the most of your experience and unlock the secrets of Alsatian Wine in the Christmas wine cellar before listening to the carols sang by children on boats from the river. Don't forget to get a selfie on Rue des Marchand for the scrapbook!
10. Thailand
Where Christmas doesn't exist…

Christmas isn't a recognised holiday in Thailand, so if you're looking to escape the festivities then this is could be the place for you. Explore the best Thailand has to offer from tropical beaches and natural wonders to opulent Royal Palaces and hidden ruins. Spend Christmas day cooling off in the freshwater pools of Erawan waterfall, soaking up the sun's rays on Phang Nga Bay or indulging in some traditional Thai cuisines off the beaten track.
It is worthwhile noting, that despite being a predominantly Buddhist country, Thailand do embrace the sanuk (fun) aspect of Christmas. In high tourist areas such as Bangkok, Phuket and Chiang Mai you can expect to see Christmas decorations and even enjoy a traditional Christmas dinner in some restaurants and hotels.
11. Breckenridge, Colorado
For a Hallmark Christmas Movie.

Breckenridge is a renowned ski town which transforms every December into a picturesque Victorian-style Christmas town. With over 13,000 feet, 250,000 LED lights, snow covered peaks, frosty trees and the most spectacular views, you will be living in your own real life glittering snow globe.
Find the perfect gift in one of the 200 unique boutiques, artisan shops and small businesses for a truly unique and memorable present. Take a break and warm through, relaxing in a cosy café next to a roaring fire. Spend a day experiencing carriage rides, cross-country skiing, sleigh rides or a Nordic snowcat adventure.
Top Tip: If you're looking to enjoy a traditional Christmas dinner book in advance whether this is to dine in or take away. There is limited festive menu and it often sells out!
12. Morocco
A perfect mix?

Christmas day is just another day in Morocco with shops, banks, cafes and restaurants open as normal. If you're looking for a glimpse of festive spirit, but ultimately want to escape then Morocco may just be the place.
Due to the majority of its population being Muslim, you will find relatively no to little trace of Christmas especially in smaller towns and cities. However, due to the French and other foreigners visiting across the yuletide period, you will find in the likes of Marrakesh have a sprinkling of Christmas. Head out of the medina and to the newly built neighbourhoods and shopping malls to get that festive fix.
Venture to smaller towns and cities like Agadir, Mirleft, Dakhla and Imlil to discover the best of Morocco without a mention or look of the 'C' word. Enjoy a relaxing day around the pool, a trek through the Sahara or wandering around the souks. Whatever, way you decide to spend Christmas, it's guaranteed to be like no other.
Travel Insurance for Festive Breaks
Providing cover for hundreds of pre-existing medical conditions with no age limit. Here at Just Travel Cover, we can help find the perfect cover for you.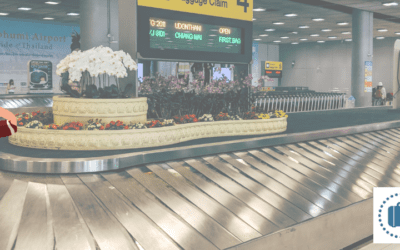 Smart Luggage, the award-winning, real-time insurance policy for lost luggage is now available to buy from just £3, even if you already have your...
read more