by Sarah Forster
-
27 June 2022
Two weeks' ago, Viking Cruises announced the removal of pre-departure covid testing for non-US departures, with P&O following suit last week. Passengers on selected departures in July will no longer be required to take pre-departure COVID test as long as they have been fully vaccinated.
As Fiji lifts its cruise ship ban and re-opens its international borders to cruise ships, we take a look at all things Cruise Travel Insurance to help you get the appropriate level of cover.
That's why Travel Insurance is so important, and there are specific benefits for cruising too, which you may not be aware of, but that could come in handy should something not go to plan.
Cruising and Covid
Back in March cruise liners announced that face masks were no longer mandatory onboard and it was up to individual passengers whether they wished to wear one. However, recently Princess Cruise Lines and reportedly Holland America's Rotterdam ship made masks mandatory due to a rise in covid cases and localised outbreaks. Due to the confinement of cruise ships, you may still be concerned about a covid outbreak and how that might affect your holiday.
All our Cruise Travel Insurance products provide cover against the threat of Coronavirus. This covers you if you need to cancel your cruise due to a positive covid test 14 days leading up to your cruise, or if you test positive and become ill whilst away.
If you contracted Covid 19 on holiday you will be covered under the emergency medical expenses section of your Cruise Travel Insurance Policy. If deemed medically necessary, most insurers will provide cover for you to extend your stay in a particular destination or if you need to quarantine. Terms and limits apply.
Our cruise isn't leaving UK waters, why do I need Travel Insurance?
Even if your cruise is sailing around the UK, Travel Insurance is an essential requirement, with most cruise liners requesting proof of Travel Insurance before boarding. If you require medical treatment onboard a cruise ship in UK waters, any treatment needed is not covered by the NHS and this is where your Travel Insurance plays a vital role. It is also why cruise providers specifically ask for medical and repatriation cover as high as £2milion.
Many standard UK Travel Insurance policies will not cover you for the medical costs required, here at Just Travel Cover we have a dedicated Seacation Travel Insurance policy with additional benefits. Head over to our exclusive Seacation Page to learn more and get an instant quote.
What am I covered for?
Just Travel Cover offer Cruise Travel Insurance for all ages and pre-existing medical conditions. We compare several specialist insurers and prices to find you affordable cover that is catered to your specific needs.  Our policies even cover you, if you are visiting multiple destinations whilst away including the flight element.
Cruise Travel Insurance will protect you for:
Cover for emergency medical expenses up to £15m (including related to Covid-19)
Cover for repatriation (including emergency evacuations)
Cancellation and curtailment cover
Cover for pre-existing medical conditions
Baggage cover up to £3,000 per person
Missed departure up to £1,500 per person
Cover for UK Cruises / Seacations
24/7 Emergency medical assistance
Some policies offer cover for the cost of travelling home in the rare case you need to leave the cruise ship for medical reasons. They can also offer the additional benefits of:
Cancellation cover up to £12,500 per person (up to £30,000 on referral)
Missed port departure up to £2,000
Cabin confinement up to £2,000
Unused excursions up to £1,000
Itinerary change up to £1,000
Cruise interruption up to £2,000
Above limits based on Avion Gold.
Cruise cover differs per insurer. Please read your policy documents, to ensure that you have the appropriate level of cover to suit your personal and holiday needs.
Just Travel Cover can provide cover 18 months in advance as well as compare prices from a range of specialist insurers. In just a few moments you will be able to select a bronze, silver or gold policy that best suits your needs and requirements.
Cruise Travel Insurance
Did you know that you can purchase your Cruise Travel Insurance 18 months in advance? In a few moments you can have your Cruise Travel Insurance quote for sailings up until November 2023!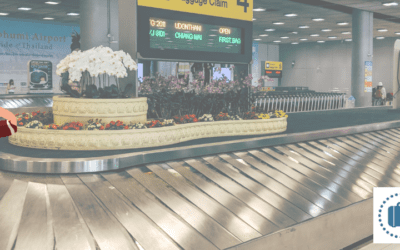 Smart Luggage, the award-winning, real-time insurance policy for lost luggage is now available to buy from just £3, even if you already have your...
read more